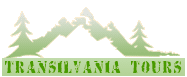 ...loading beautiful slideshow...
Contact
Transilvania Tours
49/21 Dambovitei str.
400584 Cluj Napoca
Romania
Tel/Fax: 004-0264-437104
E-mail: office@transilvaniatours.ro


S.C. TRANSSYLVANIA TOURS SRL
Manager: Cristian Szarka
Registration No.: J12/1119/1998
V.A.T. Code: RO10816694
Licence No.: 1683
Tourism Brevet No.: 6392 / 30.05.2002
Insurance company: Omniasig Vienna Insurance Group SA;
Insurance policy seria: I / nr.: 43536 / 20.07.2017 ľ 19.07.2018

Contact form
ACTIVE TOURS
A Transylvanian odyssey
In the realm of adventure
Wonders of Szeklerland
CULTURAL TOURS
From Bucharest to Budapest
Round tour of Transylvania
Spendors of Romania
TREKKING TOURS
The Transylvanian Paradise
COMBINED TOURS
Around the Western Carpathians
Heart of Romania
Heritage of southern Transylvania
References
"Wir erhielten einen guten Eindruck von der Kultur und Geschichte dieses Landes und w´┐Żnschen uns, dass der Beitritt Rum´┐Żniens zur EU nicht allzu viel von der unber´┐Żhrten Natur zerst´┐Żren m´┐Żge. Herzliche Gr´┐Ż´┐Że aus Ober´┐Żsterreich!"
Christine und Robert - Austria